O
Our Michelin Chefs Cook series puts the spotlight on ingredients handled by expert hands, highlighting the beauty of simple seasonal ingredients and pantry basics and exploring their full potential from the simple to the sophisticated.
This week we've selected five of the best rhubarb recipes by Michelin starred chefs including Raymond Blanc, Gordon Ramsay, Magnus Nilsson, Tom Kitchin, and the Cerea Brothers of three-starred Da Vittorio in Bergamo, Italy. 
In the Northern Hemisphere, especially in the UK, you will start seeing rhubarb at the markets just about now. This early crop of rhubarb, grown in forcing sheds (take a look at Raymond Blanc's video below if you haven't seen these before), tend to be sweeter and more tender compared to the main crop harvested from late March to June.
Technically a vegetable, fresh rhubarb is too tart to eat raw and is almost always cooked down with sugar in dishes. Its tartness pairs wonderfully with red meats and in a whole range of baked goods. Whether it's as a rhubarb sauce, rhubarb jam, or simply cooked into a pie, or cake, you will find its tart sweet taste a welcome addition to your winter cooking routine.
From a classic strawberry rhubarb crumble, rhubarb compote, rhubarb cheesecake, to rhubarb sauce with lamb, here are five recipes from the best of the best that show off this very flexible ingredient in the kitchen.
Five rhubarb recipes from Michelin starred chefs
1. Raymond Blanc's strawberry and rhubarb crumble
Chef Raymond Blanc's easy strawberry rhubarb crumble recipe makes use of lots of rhubarb from his garden along with the freshest French strawberries to create a classic English dessert with a French twist. He shows you how to make a lighter version of crumble that can be achieved by anyone at home. 
2. Gordon Ramsay's souffle pancakes with rhubarb compote
The perfect idea for a Sunday brunch, Gordon Ramsay whips up some fluffy pancakes with rhubarb compote. 
3. Magnus Nilsson and Pascal Barbot's rhubarb, strawberry and elderflower dessert
Magnus Nilsson is with Pascal Barbot in the kitchen to create a special strawberry rhubarb and elderflower dessert. 
Photo Scotsman Food and Drink 
Try Tom Kitchin's elegant rhubarb cheesecake with a brown sugar and hazelnut crumble base. The soft, gelatin-enhanced cheesecake is topped with rhubarb jelly made from a rhubarb consomme. 
5. Cerea Brothers' lamb loin with caramelised onions and rhubarb compote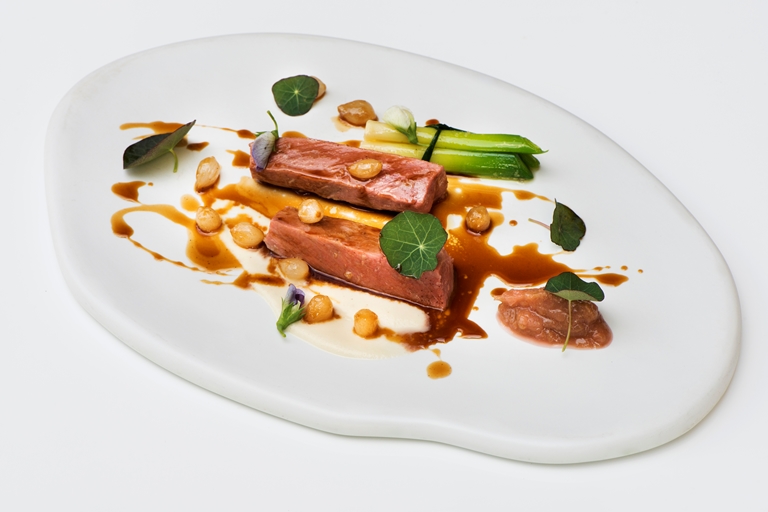 Photo Great Italian Chefs
The Cerea Brothers create a succulent lamb dish paired with tangy rhubarb and caramelised onions. The secret to the tender lamb loin here is to cook it sous vide, then finishing it off on the pan. Learn more about sous vide here.