W
Walk into any professional kitchen and chances are you will find a food dehydrator humming away in the dark corner of dry storage. Chefs love using this low-tech device which lets them create things like vegetable ashes and translucent edible films that instantly add an extra layer of flavour and texture to a dish.
There's nothing sexy about a dehydrator, nor is it high tech. At its most basic, these are plastic boxes the size of toaster ovens with a heating lamp and fan that circulates the air, keeping a constant temperature ranging between 35C to 70C.
Baby boomers used it to make fruit leathers for hiking trips, Depression-era home cooks used it to preserve food and save money.
But if there is one gadget that you should look into right now, this is it. Got some vegetable peels left over? Turn it into a powdered vegetable stock. Those tomato skins you took off to make pasta sauce? Dry them and add as a 'concentrated flavour' garnish on a carprese salad. Fresh pasta can be dried in the dehydrator, and you can also have a continuous supply of homemade yogurt. 
Apart from it being able to preserve food, and bring in a whole new level of tasty, it goes without saying that dehydrating goes hand-in-hand with reducing food waste in the kitchen. 
And in case you need further convincing, here's a list of some of the more interesting things that you can do with a food dehydrator, plus some rather obvious dehydrating tips too. 
1. Rice puffs and rice puff sheets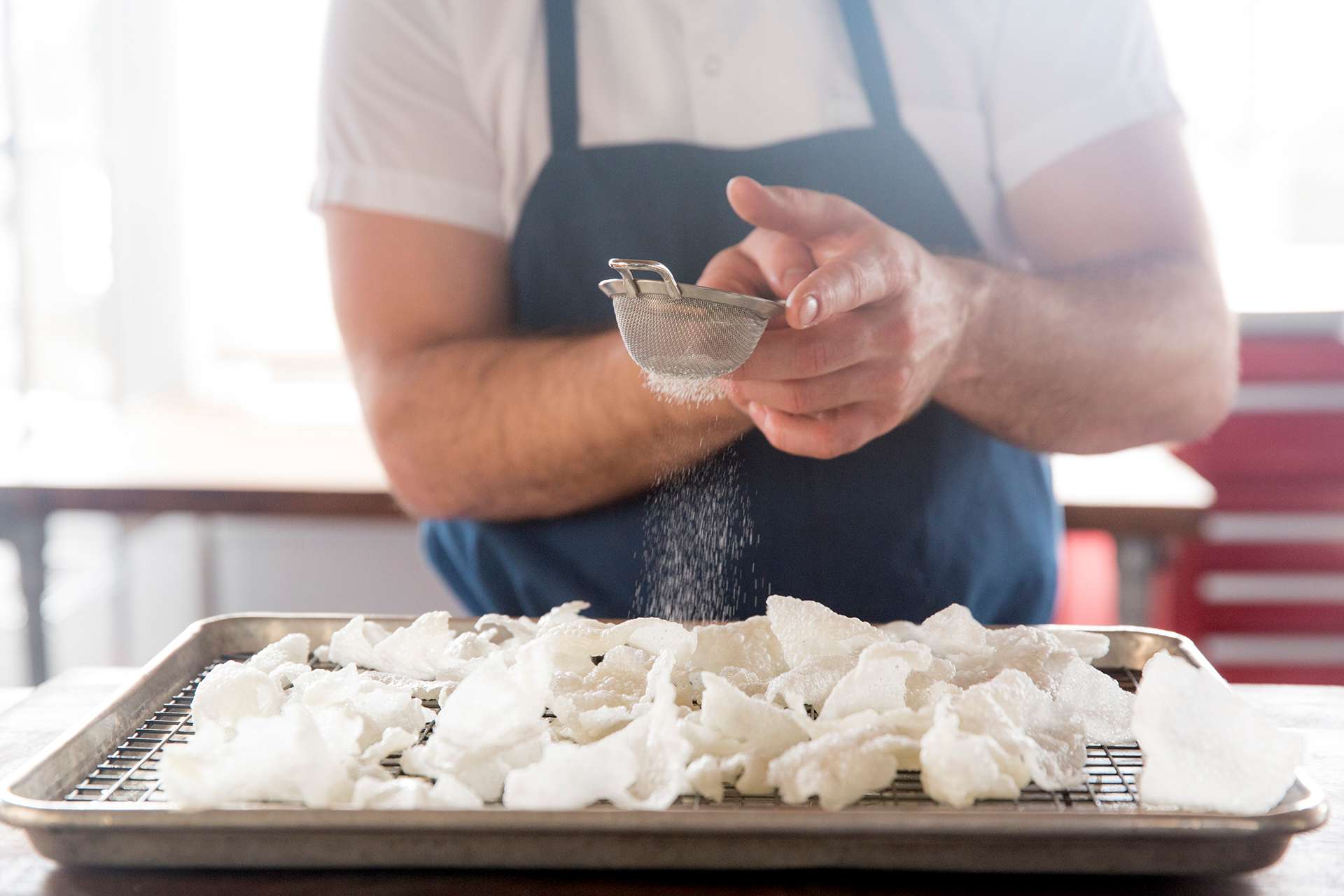 Photo ChefSteps
Crispy, airy rice puff sheets are a great texture add-on that doesn't interfere with other flavours. Boil rice, dry it out, then deep fry it. Puree the rice before drying for sheets, or go straight ahead for simple puffs. 
ChefSteps have a great tutorial on this which they then use to top a special beef tartare. 
2. Ketchup and bbq sauce 'sheets'
Why use normal sauce when you can layer a ketchup sheet on your gourmet burger or wrap a chicken wing with a bbq sheet? Making sauce sheets is as simple as spreading the sauce on a waxy paper or silicon mat and dehydrating it overnight until it turns rubbery and peels off.
3. Special edible powders
Think beyond simple vegetable powders like garlic, peppers, onion and herbs. Kimchi leaves can be deyhydrated then ground in a spice grinder to make a kimchi powder that could be a delicious flavouring for snacks or salads. You can also make your own superfood powder by drying out dark leafy greens like kale and spinach. 
4. Fancy fruit leathers
Make fruit leathers that are more Michelin star chef than your nephew's lunchbox fruit roll-ups. These are basically made with fruit puree spread over a waxed sheet that's then dehydrated over several hours. Try this Mango Chilli Leather recipe from the Modernist Cuisine at Home book for a fully grown-up version of the roll-up. 
Some other common tricks and tips
Fruit and vegetable chips
Almost any vegetable or fruit can be dehydrated to make snacks, cake decorations, low-carb chips, or just to save away to use on a rainy day. Just remember to use lemon juice to prevent fruits like apples and bananas from turning brown from oxidisation. 
Beef jerky
Go for the leanest meat you can find and make some jerky (your pet may very much appreciate this too). Fat goes rancid, so trim off any visible fats before dehydrating. 
Natural food colourings
Kale is for green, tomato peels are for red, and red cabbage is for purple. Chop, dehydrate until crisp, then blend in spice grinder until fine.